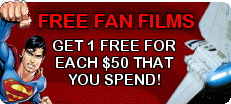 Found in » DVD Movies & Chapter Serials » Documentary Related
| | |
| --- | --- |
| | |
EUROTIKA (1999) Highly recommended! Volume 1 is 5 episodes (2 hours) of this fantastic British TV show focusing on Euro-cult cinema in English or with English subtitles.
Episode 1-Spanish horror, with comments by Jose Larraz, Paul Naschy an Jorge Grau, film clips from The Awful Dr. Orloft, Dr. Jekyll & the Werewolf, Legend of Blood Castle, Vampires Night Orgy and more!
Episode 2-UK director Michael reeves, with comments by friends, actors and producers and clips from The She Beast, The Sorcerers and Witchfinder General!
Episode 3-Italian horror and giallos, with comments by Luigi Cozzi, Antonio Margheriti and more and clips from Blood and Black Lace, Devil's Nightmare, Torso, The Washing Machine, Zombie, Bay of Blood and many more!
Episode 4-Jose Larraz, with comments by Larraz, producers, actors, etc. and clips from Vampyres, Black Candles, The Coming of Sin and more!
Episode 5-Jess Franco, with some great commentary by Franco himself, as well as producers, writers and actors (including Brigitte Lahaie), and clips from Exorcismos, Sadomania, Bloody Judge, Female Vampire, Virgin a Among the Living Dead.

EUROTIKA Volume 2 (1999) Four more episodes from this fantastic TV series on the world of Euro Cinema; all episodes are in English or with English subtitles.
Episode 1-Jean Rollin, with lengthy commentary by Rollin and some of his actresses, including Brigitte Lahaie and clips from all of his films.
Episode 2-French porn, with clips from such films as Exhibition, sin on the Beach, Pussy Talk, shocking, What a Performer and others, and commentary by various critics, writers and producers.
Episode 3-French erotic/porn director Jose Benazeraf, with clips from Cover Girls, Frustration, Jo Caligula and more, and commentary by Benazeraf, actors, producers and critics.
Episode 4-Euro Starlets, with commentary by Dagmar Lassander, Orchidea de Santis, Brigitte Lahaied, Erika Blanc and others and clips from Femina Ridens, I am Frigid Why?, Parties fines and more; very informative and entertaining.

EUROTIKA Volume 3 (Widescreen) (1995/1999) 3 more episodes of this fantastic British show plus 2 episodes of Mondo Rosso hosted by the always entertaining Jonathan Ross 9over 2 hours of film fun?)
Episode 1-the wonderful world of Eurocine, producers of everything from The Awful Dr. Orloff to Nathalie Loves Awakening, with clips of those films and Female Vampire, Maniac Killer, Special Agent Sigma 3 and more!
Episode 2- mad scientisthorrors, with clips from Night of the Doomed, The Devil's Kiss, Murder in a Blue World, Faceless and more.
Episode 3-Max pecas, director of I am a Nymphomaniac, I am Frigid and Club Prive, with many fil clips and commentary by Pecas;
Mondo Rosso includes Episode 1 on horror with guests Ingrid Pitt and Eddie Izzard; Episode 2- teen films with guests David Essex and Mark Lamarr.

Paul Naschy
Michael Reeves
Luigi Cozzi
Jose Larraz
Jess Franco
Brigitte Lahaie
Jean Rollin
Jose Benazeraf
Dagmar Lassander
Mondo Rosso
Ingrid Pill
Eddie Izzard
David Essex
Mark Lamarr