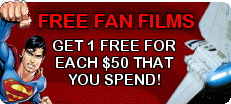 Found in » Animated & Cartoon DVD's » General TV & Movies

This is what was deleted on Television. Here you have the 2 Disc Set with these missing segments.
* A very funny joke scene between Fozzie and his snowman.
* Rowlf playing the piano when he first arrives at the farm house.
* Piggy singing "Home for the Holidays"
* Statler and Waldorf's" I Heard the Bells on Christmas" song.
* When the Muppets watch the film strip of themselves as the Muppet Babies, the cute scenes of them singing and the adults commenting.
* Mrs. Bear putting up Fozzie's stocking.
* During the medley at the end, Kermit and Piggy sing, "Have Yourself a Merry Little Christmas".

Disc One has the edited version Disc Two has all the deleted scenes listed above in the movie UNEDITED...This is the entire movie unedited.